Media, Politics and Environment

Analyzing Experiences from Europe and Asia
Author: Detlef Briesen, Sarada Prasanna Das
Publication Date: 17th July 2023
Publisher: Springer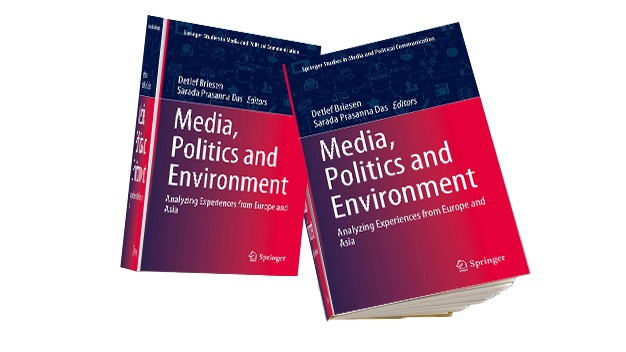 Environmental protection has not equally established itself as a permanent fixture in the political systems of all countries: to date, governments and entire societies have responded to environmental challenges in a variety of ways, and concrete environmental policy is still a highly national matter. Moreover, the perception of environmental problems varies considerably on a global scale. The reasons normally cited for these differences largely stem from the environmental policy debates themselves, e.g. poverty, ignorance, capital interests, etc. In contrast, this book shows that concrete environmental policy emerges from a complex interplay of mass media and political conflicts: first, the mass media provide the framework for national environmental policy through agenda-setting, framing and scandalization; second, the mass media thereby change values in the political and social discourse, e.g. by altering the perception of global commons and expanding the possibilities of interest articulation; and third, this can lead to political decision-making processes in which legal and other measures for environmental protection are enforced. The book systematically compares industrialized countries such as Germany and Japan with several rapidly emerging countries in South and Southeast Asia.
Battleground U.P.:
Politics in the Land of Ram
Author: Manish Tiwari & Rajan Pandey
Publication Date: 1st January 2013
Publisher: Tranquebar
Battleground UP: Politics in the Land of Ram A fascinating study of how politics are manoeuvred, campaigns run and elections managed in the largest democracy in the world. Essential reading for anyone seeking to understand Uttar Pradesh and its politics. Between March 2011 and March 2012, Manish Tiwari and Rajan Pandey travelled across Uttar Pradesh, by bike, jeep, bus and train, covering more than 15,000 kilometres and 350 constituencies in over 60 districts-in an effort to witness the prelude to the 2012 assembly elections, and capture the grassroots reality of Indias most politically significant state. The authors narrate untold stories and anecdotes of UP politics and give a ringside view of these watershed elections, which saw the end of Mayawatis rule, the drubbing of the Congress, which had pinned its hopes on the Gandhi charisma, and the rise of a new star in the form of Akhilesh Yadav. They are witness to events as they unfold in the remotest corners of UP. At the same time, they also investigate the specifics of the sociopolitical climate in Uttar Pradesh at what is, arguably, a turning point in the states history, caught as it is between the politics of caste and the politics of class, the politics of goonda gardi and corruption and the voting publics increasingly vocal refusal to put up with it, the need for development and its almost unbearable human costs.Coming up to the present, the book takes an objective look at Akhilesh Yadavs first six months in power and whether it has really been a change for the better. Part gonzojournalism, part ethnography, Battleground UP: Politics in the Land of Ram is essential reading for anyone seeking to understand Uttar Pradesh and its politics. About the Author: Manish Tiwari, Rajan Pandey Manish Tiwari: Manish has been associated with the electronic and print media for almost fifteen years from newspapers in small towns (1996 in Ajmer) to top brands in the electronic media (Research Head for Devils).
Quest for Participatory Democracy

Towards Understanding the Approach of Gandhi and Jayaprakash Narayan
Author: Gandhi & Jayaprakash Narayan
Publication Date: 1st January 2010
Publisher: Rawat
Anand Kumar is Professor of Sociology at Jawaharlal Nehru University, New Delhi. He has been educated at Banaras Hindu University, Jawaharlal Nehru University and University of Chicago. He has been blessed with the opportunity of working under the leadership of Jayaprakash Narayan from 1974 to 1979. For the three decades of his academic career since 1979, he has been engaged in several academic projects including Building Global Democracy Convening Group and the Global Studies Programme. He continues to contribute towards various socio-political causes through J.P. Foundation, Lokshakti Abhiyan, Centre for Social Research and Centre for Applied Sociology. He has also been a visiting scholar at Albert Ludwig Universitat (Freiburg), Johannes Keppler University (Linz), M.S.H (Paris) and Kashmir University (Srinagar). Manish Tiwari is a PhD in Sociology from Jawaharlal Nehru University, New Delhi. His research focuses on water and society, poverty, political and environment sociology and media s role and effect in democratic societies. He has taught sociology and journalism at the Jamia Millia Islamia, Delhi University and at a government college in Rajasthan. He is associated with the Jayaprakash Foundation.
Chronic Poverty in India:
Issues, Policies and Challenges
Author: Anand Kumar, Ashish Kumar Das & Sarada Prasanna Das
Publication Date: 1st January 2017
Publisher: Vitasta Publishing
The book is a systematic study of poverty in India.It brings together contributions of several social scientists with the objective of promoting clearer understanding of poverty-related questions through inter-disciplinary dialogues. The book deals with issues of poverty and society in India and discusses the challenges of studying the multidimensional aspects of poverty. Each section of the book contains a specific thematic area in the study of poverty, looking at the theoretical, methodological and empirical aspects of the dynamics of poverty in India. Some of the papers in this book have tried to evaluate poverty eradication policies and programmes since independence. It has also papers on the people's responses to their situations of poverty. Most of the papers in the book have used micro data for critical analysis of programmes and policies in different regions of India. A large proportion of India's poor are living in chronic poverty. This has resulted in protests, electoral defeats for ruling political parties and coalitions and the rise of extremism. If we analyse the protests/movements after the 1990s closely, we can see that these displayed some emerging characteristics. Firstly, these movements were against post-liberalisation industrialisations, which were based on privatisation of public resources and mostly profit-oriented. These were also based on capital-intensive technologies and maximum utilisation of the natural resources. The post-liberalisation industrialisation policy ignored the land, forest and water issues, which were basic sources of livelihood for rural populations of the country. The movements also tried to link the issues of development with cultural questions. Thirdly, these movements also tried to provide an alternative discourse of people-friendly development and they also provided a space for the marginalised masses. These protests and movements also questioned the political economy approach of development and gave an alternative to link development with the socio-cultural aspects of the specific region. Finally, all these protests/movements are against industrial developments which are creating marginalised groups in peripheral areas.